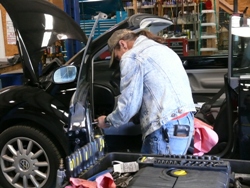 We have professional service technicians that perform a 100 point inspection on all of our cars before they are put into inventory.

They can help you with any of your auto repair needs, from a simple oil change, transmission service or replacement, tire rotation to a motor repair or replacement.


There is no job too small or too large for our service department. So whether you bought your quality used car from Verlon Painter Motors or not, we're here to help you get back on the road quickly and safely at an affordable price.

If you have a question about service please feel free to email our professional service department at service@verlonpaintermotors.com or call (256)-894-0037 or (256)-894-0023.










Certified Car Fax Dealer

We welcome you to become part of our family.

Verlon Painter Motors 3842 AL. HWY. 75 N. Albertville, AL. 35951

info@verlonpaintermotors.com

(256)-894-0037 or (256)-894-0023




Copyright © 2007- Verlon Painter Motors. All rights reserved.
Duplication or reproduction of the contents of this web site, including, but not limited to, content,
graphics and source code, is prohibited without expressed written consent by Verlon Painter Motors.



Website Hosting and Design provided by Sidetrips Internet Inc.